Skip to Content
Andrea M. Falcon, MS, ARNP, BC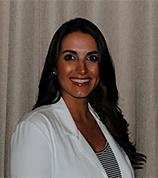 University of South Florida, Tampa. Master of Science (MS) in Nursing as an Advanced Registered Nurse Practitioner (ARNP)
University of Miami, Coral Gables. Bachelor of Science Degree (BS) in Nursing
University of Florida, Gainesville. Bachelor of Science Degree (BS) in Business Management
Board Certified in Family Practice by the American Academy of Nurse Practitioners
Prior to pursuing her Master's degree, Andrea's previous career as a Registered Nurse includes experience in Critical Care, Cardiology, and Pediatrics.
While in the Master's program at the University of South Florida, Andrea received clinical training in various family clinics and private office settings, including specialty training in dermatology.
Andrea practices general dermatology as well as cosmetic dermatology, including laser therapy, Botox, and dermal fillers.
Outside of her career Andrea enjoys spending time with her family, traveling, and exercising.
Your Experts in Clinical Dermatology & Skin Care